Is Video Marketing really need for my business?
Video Marketing is a way of promoting or marketing your brand, product or service using video. An effective marketing campaign includes a mix of Customer testimonials, live events, Educating videos, explainer videos, entertainment videos and many things in the video.
Why Video Marketing
Let's have a look at the recent statistics,
Videos derive 66% more qualified leads per year.
Brand awareness increases by 54% by videos.
Youtube has become the 2nd largest search engine on the web.
According to Cisco, 75% of mobile traffic will be video by 2020.
After viewing a video on social media 53% of consumers engage with a brand.
Product videos and shoppable content influence 23% of people (30% of Millennials) to directly purchase a product.
72% of people prefer video over text when learning about a product or service
Household goods and health& beauty sectors had seen a 159% and 99% increase in digital video advertising respectively.
YouTube Video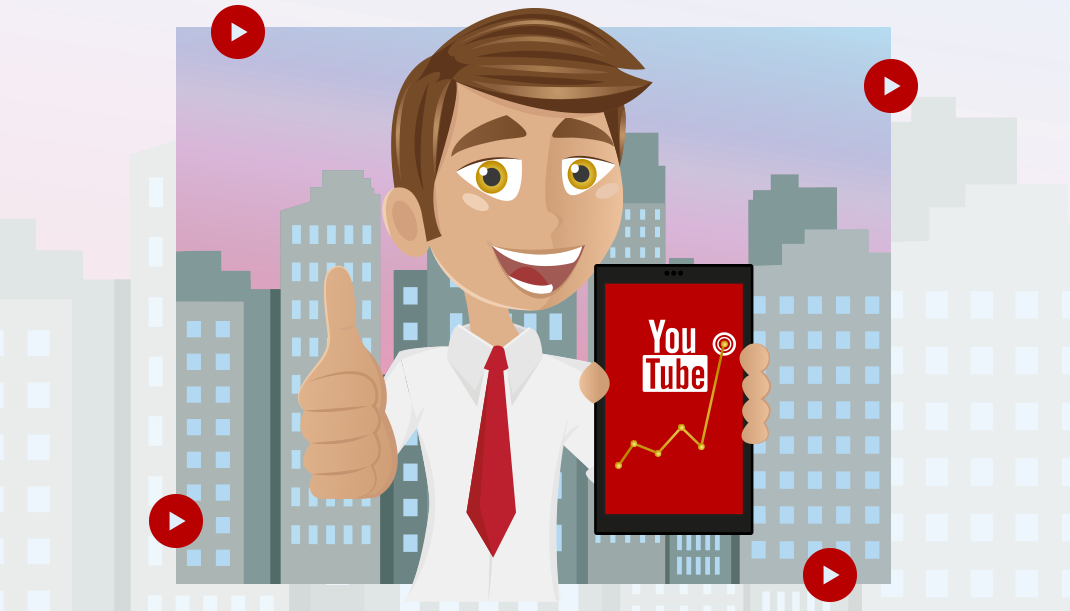 Each month over 6 billion hours of video are watched on YouTube—that's almost an hour for every person on Earth, it is 50% more than last year.
Each month More than 1 billion unique users visit YouTube.
YouTube is localized in 88 countries and across 76 languages which covers almost 95% of the Internet population.
Each day Millions of subscriptions happen and it's increasing every day.
Since YouTube is owned by Google YouTube videos will be ranked and shown on Google search results easily.
87% of brands have used YouTube as a channel in 2018.
More than 50% of the views are coming from Mobile devices.
Facebook Video
84% of video marketers use Facebook video as a channel.
Instagram Video
51% of video marketers use Instagram video as a channel.
LinkedIn Video
61% of Brands use LinkedIn video as a channel.
Twitter Video
43% of business use Twitter video as a channel.
Webinar
37% of brands use a webinar as a channel.
Facebook Live
36% of video marketers have used Facebook Live as a channel.
Interactive Video
24% of brands have used Interactive video as a channel and it is increasing year by year.
Instagram TV
30% of video marketers use Instagram TV as a channel.
360 Video
19% of brands use 360 videos as a channel.
Snapchat
10% of brands use Snapchat video as a channel for their business.
Virtual Reality
11% of video marketers use VR as a channel.
Mobile Video Statistics
34% of people prefer Mobile to watch video while 17% watch on the desktop and 42% prefer both devices equally.
Vertical Video
75% of people prefer horizontal video vs. 25% prefer vertical video.

Video Sharing
48% of people prefer video sharing compare to any other type of content.In social media posts Video occupies 23%, news articles 16%, blog posts5% and product pages (3%).
Looking Ahead
39% of people prefer explainer videos.
20% prefer entertaining 'viral' style videos.
12% prefer product demo videos.
10% prefer video blogs.
9% prefer interactive videos.
6% said they'd like to see more software tutorials.
87% of people prefer to see more video from brands in 2019.
Types of Marketing Videos,
1. Demo Videos
Demo videos help to showcase how your product works —whether talking about your software and its features or showing your product test.
2. Brand Videos
Brand videos are a part of a larger advertising campaign. It helps brands to showcase the company's high-level vision, mission, products, and services. The brand videos not only help to build awareness around your company but also to intrigue and attract your target audience.
3. Event Videos
Whenever your business host a conference, round table discussion, fundraiser, or another type of event, you can release interesting interviews and presentations from the gathering.
4. Expert Interviews
Building trust is very important in business. Brands can build trust and authority with the target audience by capturing interviews with internal experts or thought leaders in their industry.
5. Educational or How-To Videos
Instructional videos are helpful to teach your audience something new or build knowledge they'll need to understand your business and solutions. These videos can also be helpful to your sales and service teams as they work with customers.
6. Explainer Videos
This type of video helps your audience to understand why they need your product or service in a better way. Many explainer videos focus on a fictional journey of the company's core buyer persona who is struggling with a problem. This person overcomes the issue by adopting or buying the business's solution.
7. Animated Videos
To explain hard-to-grasp concepts, animated videos can be used in a great way by using strong visuals. It is also helpful to explain an abstract service or product.
8. Case Study and Customer Testimonial Videos
Customer Testimonial is the key to build trust among your target audience. Making Case Study and Customer Testimonial Videos are the best way to showcase that your product can solve your target customers' specific problem.
9. Live Videos
Live video helps your viewers a special, behind-the-scenes look at your company which also indirectly helps in building trust. It also increases streaming time and engagement rates — viewers spend up to 8.1x longer with live video than with video-on-demand. Live-stream interviews, presentations, and events encourage viewers to comment with questions.
10. 360° & Virtual Reality (VR) Videos
360° videos, allow viewers to "scroll" around to see content from every angle — as if they were physically present within the content. Viewers can experience a location or event with this spherical video style, such as exploring the Himalayas. Viewers can navigate and control their experience with the help of VR.
11. Augmented Reality (AR) Videos
A digital layer is added to what you are currently viewing in the real world in this style of video. For example, You can point your phone's camera at your kitchen and AR would allow you to see how a dining table would look in the space. The IKEA Place app utilizes this technology in a good way.
12. Personalized Messages
Communication via video can be a creative way. HubSpot Video or Loom can be used to record yourself recapping an important meeting or giving personalized recommendations. These messages create a delightful, unique moment for your clients and can drive them further down the purchase journey.
8 Things to keep in mind while creating the video,
1.Your Brand
2.Target Audience
3.Target Location
3.Your Competition
4. Your Video's Unique Value Proposition
5. Choosing the right channel
6.Your Goal
7.Budget
8.Measuring key performance indicators

5 Ways to get great ROI by Video marketing,
Create the Story Interesting
Tell your message in 10 Seconds
Include a Call to Action
Share Your Video Everywhere
Benefits of Video marketing
Conversions can be increased by 80% by adding a product video on the landing page. The numbers of sales that directly lead by video is increasing day by day. Out of 100, 74 users bought the product who watched an explainer-video about the product. Crafting exciting videos of your product will do magic to your business!!
Vision is our most dominant sense hence most information transmitted to our brain is visual. If the impact of pictures is this massive in today's marketing industry, imagine what moving pictures can do to your business.
A video shows 27% higher click-through rates and 34% higher web conversion rates, says a recent study.
2. Expect a good ROI?
83% of businesses saw a good return on investment by video. Though video production is little costlier, it pays off big time. Online video editing tools and smartphone make it more affordable and easier now.
Though quality matters for a video, the success of a video is determined by its content. Low quality and poor design do not matter much. Marketers who use video are growing company revenue 49% faster year-over-year than those who don't.
3. Can influence buying decisions
Business Benchmark Report states that 90% of customers say product video is helpful to make buying decisions and 64% say that watching a video influence them to buy.
Also, 97% of marketers use video to increase user understanding of their product or service, according to HubSpot.84% of marketers agree that they could increase traffic to their website by adding videos.
4.Video Builds Trust
Trust is the foundation for any business in every stage. Content marketing plays a vital role in building trust and long-term relationships. By providing interesting and useful information you can make people take you seriously.
A Video does it all in an interesting way. People emotionally get connected with video content and likely to engage easily. YouTubers have become the most powerful social media figure in promoting a brand.
When it comes to online purchase people still hesitate in fear of fraudulence. Effective marketing videos help to present your products in a conversational form which creates a sense of individual approach. This type of marketing boost more confidence to purchase online. Importantly, video adds Personality to your Brand that helps to be relatable to your audience.
5. Google Loves Videos
Visitors tend to spend more time on a website when they find videos. This indicates signals to search engines that your site has good content. Also, your website likely to show up 53 times more on Google when you have video embedded on your website. Since Google now owns YouTube, the chances are pretty high to increase your search engine rank.
You can optimize your videos on Youtube for SEO by writing interesting titles and descriptions. Also, add a link back to your website, products, and services. Interactive videos are very effective when it comes to encouraging actions. Videos simply do wonders when it comes to boosting backlinks, likes, shares, and traffic to your site.
6. Video captures the smart users
When it comes to video, mobile comes handy. 90% of consumers watch videos on their mobile. According to YouTube, every year mobile video consumption rises 100%. The number of people who watch videos on the go is increasing drastically. The growth of mobile video creates a very competitive situation to brands hence they need to be very sensitive about their content.
7. Video Encourages Social Shares
76% of users prefer sharing a branded video with their friends if they find it entertaining. Small Business Trends says social video generates 1,200% more shares than text and images combined.
-Written by Tharani.